A great motorbike tour over 5 days and 3 countries in two of the most accessible national park areas in Western Europe and especially interesting for anyone wanting to head out for 5 days from the UK.
I'm travelling from Bonn, through the Eifel in Germany to the wonderful Ardennes in Belgium, France and Luxembourg where I meet up with 6 very very close biker mates for three 'Battle of the Bulge' loops through the countryside.
Maps and kit list are included and, as always, there are more images and notes on Instagram.
It's Friday, the day before the storming. 6 lads are getting ready in the UK, and I'm just about ready here in Bonn. We meet tomorrow, 160 km from here, somewhere in the Ardennes.
Day 1. Bonn to La Roche en Ardennes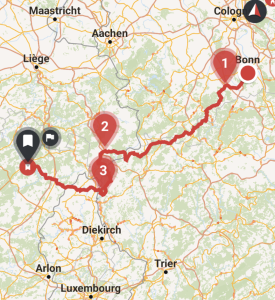 Without any major planning in Calimoto, the route passes through some of the finest winding roads in the Eifel.
The leg will be solo on the VFR and at around 170km, no big deal. I've set a few waypoints so that I can switch from direct to windy to twisty, if desired.
It's 0745 and I leave in about 2 hours so there's absolutely no stress. The temperature is perfect for biking at 18-24 degrees, dry. The rest of the group have just set off from Ipswich, UK. They've got a slightly different day ahead with long motorway slogs.
Eifel to Ardennes
Well that was a surprise. Not only was the winding route through the Eifel a pleasure, after crossing into Belgium the roads were suddenly free of cars.
Wide open spaces and beautiful scenery.
Day 2 – The Luxembourg surprise
The Belgian-Ardennes landscape is beautiful, and Le Roche en Ardennes is as pretty as you want. Tourists, too many.
On the first run out we found ourselves crossing into Luxembourg and discovering a new world of quality roads. It's difficult to believe that you're allowed to simply ride in and enjoy the playground.
This route (you can leave out the Belgian bit) was a dream, passing a huge lake and winding through some beautiful forest and moutain roads. The loop you see here, ending in Kiischpelt, Luxembourg, is amazing. The last 10 minutes being some of the most exhiliarating riding I've ever done. Take a break in the Kiischpelt car park after you've completed the twisty switchbacks on the downhill.
Day 3 – More Luxembourg
We can't keep away! Smooth, top quality roads and the most amazing scenery. Calimoto has done another great job setting up the route.
After heading down through Bastogne to the border we tanked and headed into Luxembourg and out to the German border crossing into the Eifel National Park before coming back into LU and heading back to base. The 170km shown on the map below is worth noting. Once again we pass through the beautiful Esch-sur-Sûre.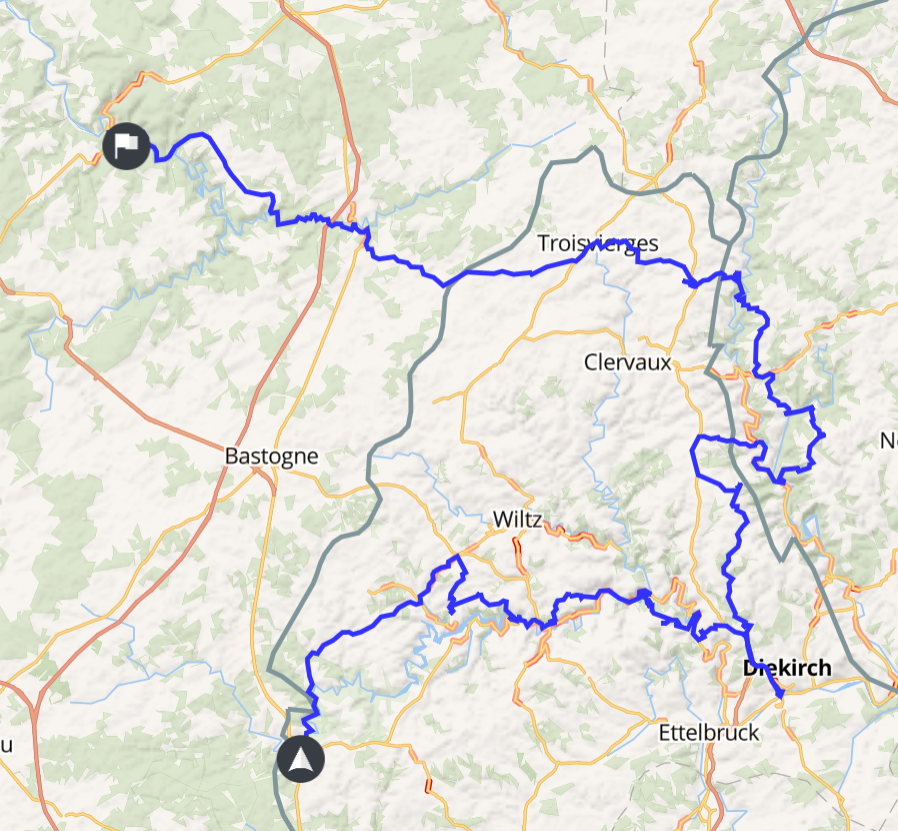 Unfortunately, and I blame the rugged Belgian roads, my number plate holder, not an original part, worked itself into fatigue and broke in two…just after we spotted the problem and cable-tied it to stop it falling away and getting lost.
A temporary fix and a long-term fix are needed there.
Day 4 – The short one in Luxembourg
If you're looking for breakfast and a short 1.5hr tour, take a look at this one.
After a 30 minute workshop-stop to fix the plate, this 70 km tour included one of the fastest downhill hairpin routes I have ever done. Confidence and practice makes perfect and after a good 700 km of riding, today was the day to step it up a notch. Fantastic.
The start-end point there is Esch-sur-Sûre, which we've been through on every single loop this tour.
Apart from a gentle forest-side ride back to La Roche at the end of the day, that was it. By the time I get back to Bonn, probably via the motorway, it will have been a 1000km tour, and one that I'll remember forever.
5 day motorbike tour kit list
With the weather stable and warm there was little need for cold or wet weather clothing so what you see here is a really optimal list for someone that's not camping.
Total pack size was about 64 litres spread across a 50-litre SW-Motech cargo bag and a 10 litre tank bag.
Toolkit
Electric Pump / CO2 pump
Bike tyre repair kit
Tyre pressure guage
Straps and cords
Tape (electrical, gaffer, 1 per team)
Personal bike toolkit
First aid (one per team)
Allen keys
Cable ties
Spare bulb H7 55w 12v
Chain lube
Rags
Torch
Multiknife
High visibility vest
Bike riding and general
Helmet
Boots
Jacket
Biking trousers
Waterproofs
Gloves
Riding T-shirt
Riding socks and underwear
Bike lock / Alarm
Documentation (see below)
Water / Snacks
Phone / Navi
Quick charging power bank small
Bathroom
Personal Medicine
First aid kit
Hadwashing paste (oil etc)
Labello (lip balm)
Paracetamol
Shampoo/Shower gel
Deoderant
Tissues
Toothbrush and toothpaste
Bathroom bag
Cleaning wipes
Small Towel
Electrical
Main Powerbank and charging cables
EU – UK power adapter
GoPro, Stick and kit
Laptop
Spare phone
Play
Kindle
Tennis Ball
Playing cards
Navigation
I'm using a Pixel 6 with an SP Connect mount. I use Calimoto. You can find some of my thoughts on Calimoto on the Orwell Motorcycles website.