The Larry vs Harry Bullitt is a long-john style (2 wheels, carrier front and low) cargobike that appears to have achieved a good status in the market. I'm testing the Clockwork orange Shimano Steps eBullitt version which comes in at over 4300 Euro. It's really, really expensive. But it's good too. Not perfect, and not without the need to spend even more money, but we'll get to that after I've summarised some good and bad points that I've already noted after a 4 days test.
Test bike: Larry vs Harry Steps eBullit Clockwork. Cost €4,449.00 with additional lock and plastic box accessory. More info on the Shimano Steps system. Loan bike is 2 years old.
Motor 250W, 36-volt electric drive unit. 3.2kg.
Battery 418Wh (36V, 11,6Ah). Life Expenctancy: Eco 120km, Normal 80km, High 40km.
Computer Multifunctional, information on motor modes and battery use.
Shifter Di2 electric, manual and automatic shifting.
Rear wheel Alfine 8-speed Di2 hub laced to Alex 36h DM24 rim.
Tyres Schwalbe Marathon eBike optimised. Front 20" / 1.75" Rear 26"/1.75".
Brakes Magura MT5 4-pot disc brakes, 180mm Magura discs front/rear.
Saddle Original Bullitt Racing Seat from Velo.
Lights Lumotech front / Secula Rear powered from main Shimano battery.
Lock ABUS Amparo, ABUS Keylike© integration with STePS battery.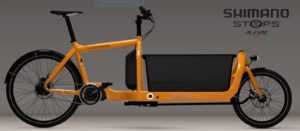 Larry vs Harry Bullitt problems.
It's expensive. "You can buy a car for that money" is something you can't argue with. A second hand car will be faster, dry, warm (or cool), have good integrated security, takes 4 people, has a radio, is safer under crash conditions. You can fight back with the classic arguments of a cargobike being quicker, healthier, climate friendly, cheaper per kilometer and much more fun but yup, you can still buy a car for the money; And you might still need one, or at least a bus pass.
The front wheel isn't stable enough. It wobbles almost into tank-slapping style feedback over bumps at speed (i'm talking 30 + km/h) and pulls to the left on front braking which really puts me off.
In Germany it's limited to 25 km/h assistance, which is just too slow for 30 km/h zones where cars dangerously still feel the need to overtake.
It's got a terrible turning circle. Like all long john bikes of course, but it's still an issues to consider.
Loaded with over 100 KG (under 180 KG total rider and cargo) it's really tough to start and get going. It's difficult to steer too. You'll need to make sure that the tyres are really pumped to the max if you're going to do major load carrying…every single time.
The automatic gears weren't calibrated well. Manual gearing from 3 to 4 sometimes didn't work and there was a big clunky gap between 2 and 3 under load.
The front are rear lights are set way too low. I felt a lot better after putting on a headlamp
Cargobikes need indicators. Under load and braking you need both hands on the handlebar which makes hand signals impossible. This is a general problem with cargobikes of course.
The built-in security isn't enough meaning that even in the friendliest of cities you'll be carrying 2 – 3KG of locks with you. Those locks cost more money are a a pain to stow when you're on the go. (Space is not an issues of course. Kilos of steel bouncing around, is.)
The plastic box is OK for bags, but not for cargo. I feel like it was designed to carry 100 KG of earth although I did managed to convince my 7-year old boy to climb in after adding some padding. For maximum carrying capacity you'll need something with straight sides. I strapped on (with cargo straps) a 60 x 50 x 50 flight case and a long bag and with a few containers on top reached well over maximum load.
Bullitt owners are probably screaming at this point. YES, some of these issues aren't specific to the Bullitt but I've noted that above and I will continue to point the issues out. Potential new customers need to know. Feel free to comment below, but before you do, let's look at the good stuff.
Larry vs Harry Bullitt. What's good about this cargobike?
This orange long john is almost the coolest looking cargobike I've ever seen. It isn't 'sexy' by a long-shot but it's a head turner and that's important for businesses looking for advertising potential, for cargobike activists and for individuals looking for attention.
The brakes are excellent. Front and rear disks have great feel at speed but can be a little to sharp at low speeds.
It's quiet. One of the major problems with the (old) Babboe I tested was the terrible noise under load. On the same hill the Larry vs Harry Bullitt is just a light electric 'whir' in comparison. Which brings me on to that enclosed powertrain.
Shimano Steps provides a battery, motor, gearing and computer display system that's well integrated. It took me a while to find out how to turn the lights on and to work through the controls but it's important to note I still haven't looked at a user manual yet. The system starts in automatic gearing mode with no motor assistance so I've had to make sure assistance is on before I pull away with a load although there could be a way to change that. As I say, I haven't read the manual or had any assistance from the person that loaned this cargobike to me. (See below.)
Integrated controls. After three or four short journeys i'm familiar with the controls and the 'peep' that the system gives me which allows me to keep my ye on the road. If only this bike had a turn indicator system.
I appreciate the single-key lock and battery security although I'm working with a total of 4 keys with the additional locks I've been given and told to use.
Those additional locks are a big pain. Not only do they cost more up front but the lock-unlock times are driving me mad. I'm also worried about losing one of the four keys. Security takes time and money.
Money doesn't stop there. Apart from the additionnal locks I've been given a waterproof courier bag with straps and additional lights. I've added a cheap plastic rain cover to the package too. That will be at risk, with the straps because I won't be carrying that with me around the supermarket thank you.
Larry vs Harry Steps eBullitt real world battery life.
The battery is mounted on the frame's steerertube, balancing the weight. It'll take four hours to give the battery a full charge but only two hours to fill it up to 80 percent. Battery life is dependent on mode selection, in Normal Mode the average is 80km, this can vary due to temperature and topography. The battery and lock share a key with Abus' Keylike system.
It's cold (6 – 10 degrees) and I live on a hill (160 meters climb at average 6% gradient with 10% peak gradient) so I'm not getting 80 km range, despite my morning coast down the hill. However, i'm getting good battery life information from the computer and if I can do three days between charges I'm happy. I wasn't expecting a weeks worth of commuting to be honest.